Four types of camera mounts to support various cameras

The HORSEMAN TS-Pro is used via lens mount placed between the camera and the lens. Camera mounts are interchangeable. One TS-Pro unit can be used on various cameras by adapting camera mounts suitable for camera bodies.
HORSEMAN TS-Pro offers ideal solutions for capturing video with digital and cine cameras as well as digital SLR cameras.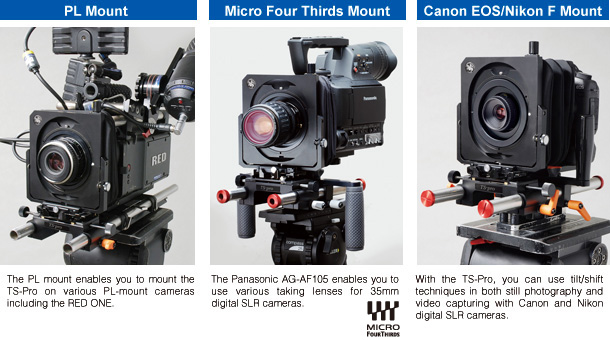 Six lens mounts to allow using various kinds of taking lenses

The HORSEMAN TS-Pro is designed to allow using tilt/shift techniques with conventional taking lenses. It supports various lenses for 35mm DSLRs, medium format cameras and M39 mount. When it is used in combination with a still camera lens with a large image circle, it enables the cameraman to utilize tilt/shift techniques with sufficient margins for imaging creativity that was never before possible in video application. *Lenses used for tilt/shift movements must have image circles covering cameras' image sensor sizes.

All movements are controlled by freely moving lenses surfaces.

The HORSEMAN TS-Pro is designed to control tilt and swing movements as well as lateral shift movements on the front lens standard. The lens and the camera is connected with a flexible bellows, which increases the freedom of lens movements. In addition, it enables you to change magnification ratios for macro imaging easily by taking advantage of bellows flexibility, without moving the tripod.
Specifications & Products

Type
Auxiliary equipment allowing awing, tilt and shift movements
when attached to the lens mount of a camera.
Camera Movements
[Tilt] : 15°forwards / 15°backwards, 15°each(L/R)
[Shift] : 30mm each(L/R) / 15mm each(Rise/Fall)
Track Extension
35mm
Camera Mount
Exchangeable
Lens Mount
Exchangeable
Tripod Socket
1/4 inch
Dimensions
Front Unit : H220 x W170 x D60mm
Base Unit : H150 x W170 x D140mm
Diameter of Rail : 19mm Length : 225mm (An extra pair of rail is included.)
Weight
Front Unit : 1.2kg
Base Unit : 1.1kg
Product Code
Products
27001
Horseman TS-Pro
Front Unit / Base Unit
27011
TS-Pro Front Unit
27012
TS-Pro Base Unit
27021
TS-Pro with Rodagon 50mm
Front Unit / Base Unit / Rodagon 50mm / M39 Mount
27022
TS-Pro with Rodagon 80mm
Front Unit / Base Unit / Rodagon 80mm / M39 Mount
Camera Mount
27031
Micro Four Thirds Mount
27032
PL Mount
27033
Canon EOS Mount
27034
Nikon F Mount
Lens Mount
21781
Pentax 645 Mount
21782
Mamiya 645 Mount
21783
Hasselblad Mount
21787
M39 Mount
27051
Canon EOS Mount
27052
Nikon F Mount
※Horseman TS-Pro(27001) needs to have at least either one from both of lens mounts and adapter plates.